The Ministers of Economic Development and Tourism of Montenegro, Goran Đurović, the Minister of Tourism and Youth of Serbia, Husein Memić, the Provincial Secretary of Economy and Tourism, Nenad Ivanišević, the Mayor of Novi Sad, Milan Đurić and the General Manager of the Novi Sad Fair, Slobodan Cvetković declared open the 53rd International Fair of Tourism at the Novi Sad Fair.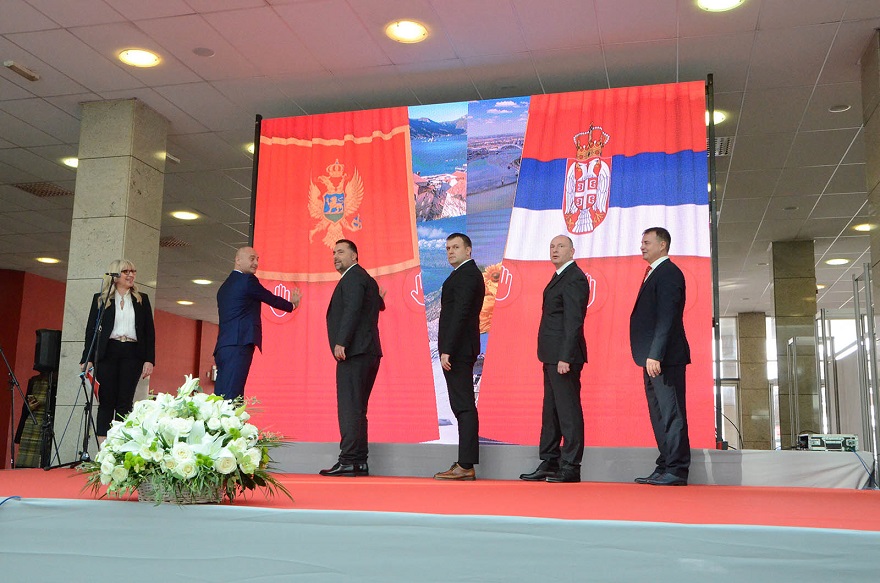 Minister Memić praised the decision to organize this event separately from the LORIST fairs for the first time.
-This is yet another confirmation that Vojvodina is becoming a tourist region of great importance, said Memić. – This is confirmed by the fact that the Fair has gathered 14 countries, i.e. 250 exhibitors. According to the available data, we can conclude that the year 2022 will be a record-breaking one. The data of the Statistical Office of the Republic of Serbia show that we have recorded 9.3 million overnight stays, which is by 18 percent more than in the record, pre-pandemic year of 2019. When it comes to foreign tourists, they have recorded 2.9 overnight stays, which is by two percent more than during the first nine months of 2019.
According to minister Memić's estimate, we could also expect a record income from tourism, since we have received 1.5 billion euros during the first nine months of this year, while the total income in 2019 was 1.6 billion euros.
He also announced that next year would focus on the development of tourist infrastructure and that more than one fifth more money has been allocated for that purpose than this year.
- We are going to continue developing the tourist infrastructure. From 2015 to 2022, more than one billion dinars were allocated to Vojvodina for that purpose. Together with the Autonomous Province of Vojvodina and the City of Subotica we are working on the construction of a magnificent waterpark and spa center in Palić, which will be the biggest and most modern from Belgrade to Szeged, Memić said.
He expressed his gratitude to his colleague Goran Đurović for helping Montenegro become the partner of this year's Fair of Tourism and for productive talks, stating his wish to "participate jointly with our brothers from Montenegro on large markets".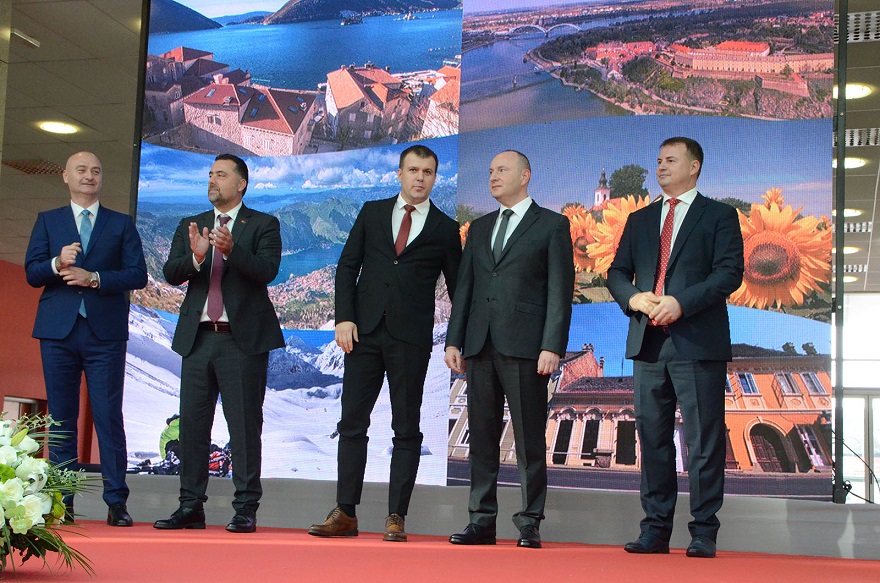 Goran Đurović expressed his wish to see the connections strengthened in all segments of economy and tourism at the 53rd International Fair of Tourism.
- The challenges our economies are facing are great, perhaps too big from the aspect of our potentials, bearing in mind that even the leading international economies, the tourist markets with the highest number of tourists and visitors, are also facing numerous problems, Đurović pointed out. – This only puts more pressure on us to find solutions to every situation, even the most challenging ones. Having said that, I see this Fair as an event where we will exchange attitudes and experiences and find models to further strengthen our tourism and our economies, Đurović said.
He also expressed his expectation that some models would be worked out to facilitate joint presentations at remote markets, which represent a great potential.
-Therefore, we first need to diversify our offer and then integrate it into a joint offer that could be presented at remote markets. The key is in partnership, coordination and networking, Đurović explained.
He was happy to mention this extraordinary tourist seasons and thanked the citizens of Serbia and Vojvodina "for choosing Montenegro as their summer destination".
-The results of this year's summer season are better than last year's, and in some segments even better than those from the record-breaking 2019. This shows that tourism has recovered quickly, both internationally and locally. Our wish is for Montenegro to be seen not only as a destination offering sea and the sun, because we have other things to offer all 365 days in the year, said Đurović and added that Montenegro was readier for the upcoming winter season than ever.
The Provincial Secretary for Economy and Tourism, Nenad Ivanišević emphasized that the results of the tourist industry in the province during the first nine months of his year were better than those from 2019.
- We have recorded 1.4 million overnight stays, which is by 250,000 more than in 2019, which we see as the record year, Ivanišević said. – We could not have done it without working together. The keyword related to this and all similar events is "together". We stayed together during the pandemic and online fair events, yearning for opportunities to meet face-to-fact and talk and now that time has come. I thank the Novi Sad Fair for being persistent with the endeavor to bring the Fair of Tourism back to the place it should be, while I thank the city and its citizens for continuing to visit this evet. I am proud to live in a country where flags of all countries flutter and no flag has a problem fluttering, nor does anyone have any problem with any flag. That is why I think our future is bright, both in terms of tourism and in general.
-The two European titles awarded to Novi Sad, the Youth Capital of Europe and the European Capital of Culture, have had impact on the overall image of our country, said the Mayor of Novi Sad, Milan Đurić. – Our city has become an unavoidable tourist destination in this part of Europe. Tourism is constantly expanding and awards and recognition keep coming. Three years ago, the renowned site Lonely Planet put Novi Sad on the third place on the list of top ten cities that have to be visited. This year, we have received the "Golden Apple" Award and an award for a creative destination recently in Ljubljana.
According to the mayor, this contributed to fantastic results in the field of tourism. 10 years ago, the number of overnight stays in Novi Sad was 220,000, while have already recorded more than 400,000 stays in the first nine months of this year. We hope and plan to reach half a million overnight stays by the end of the year, which would be a record for Novi Sad. To be honest, when you combine the natural beauty and cultural and historical heritage we boast and cherish with constant effort of all citizens of Novi Sad to help their city develop and progress, we should not be surprised with these results, because they are a logical consequence of years of hard-work and investments. What is more, it is logical that the Fair of Tourism is held here, at one of the most attractive tourist destinations, a city with half a million citizens, which is developing more than any other city in this part of Europe, Đurić explained.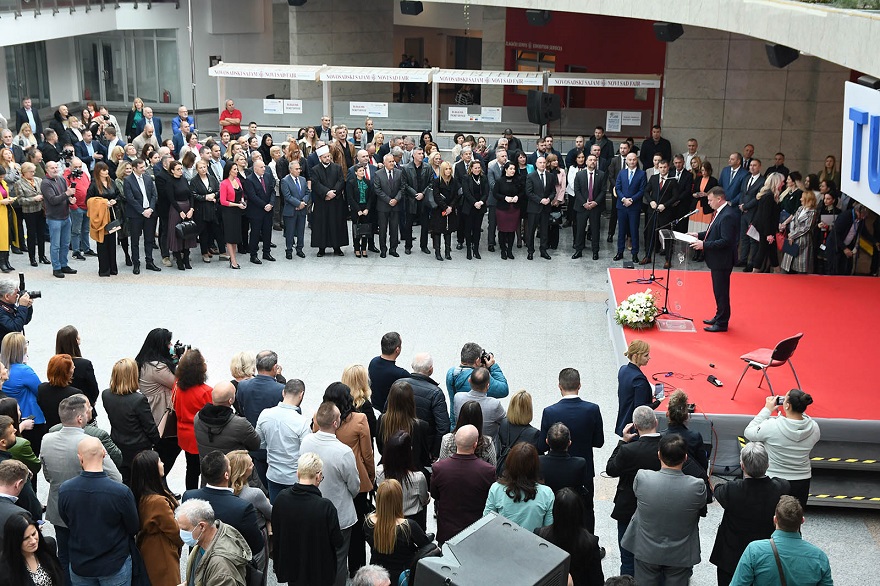 He welcomed everyone to Novi Sad and reminded them that Novi Sad and Budva were twin cities, and that Tivat would soon become a twin city with Novi Sad. Also, the mayor mentioned the cultural ties with Herceg Novi and promised his support to the efforts to have a city in Montenegro proclaimed the "European Capital of Culture". Also, he invited everyone to visit the stand of the Tourist Organization of Novi Sad and learn about a selection of local wines and the offer of wine tourism through a project called "The Novi Sad Wine Trail".
New dates – a response to the wishes of exhibitors and visitors
The General Manager of the Novi Sad Fair, Slobodan Cvetković, welcomed the guests at the event that has been one of the symbols of the Novi Sad Fair and emphasized that the new dates were more suitable for new business ventures and that they were introduced due to the wishes of both exhibitors and visitors.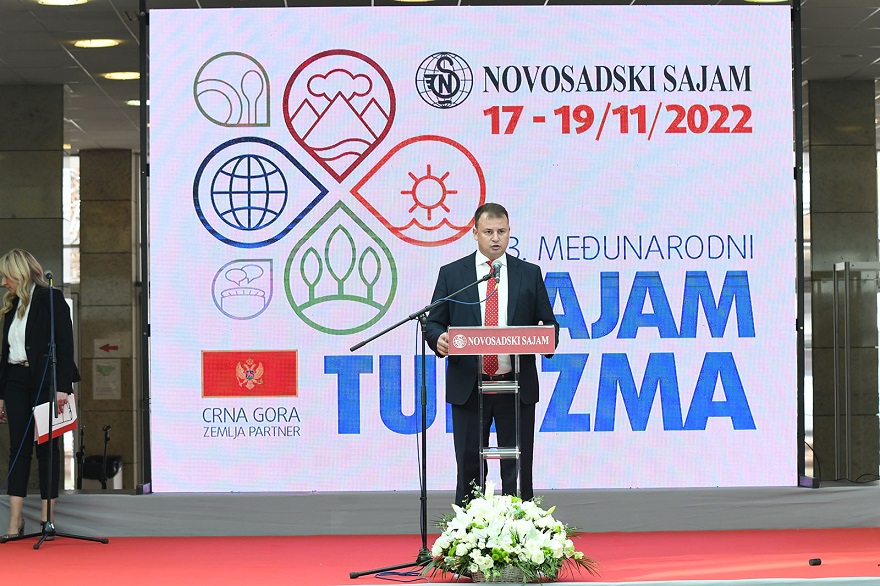 - I have to express my personal satisfaction with the fact that Montenegro has supported us as the partner-country of the 53rd International Fair of Tourism, said Cvetković. – The presence of representatives of institutions from Montenegro, as well as local tourist organizations, confirms that this event is significant. We thank Montenegro for recognizing that the Novi Sad Fair should be the first stop on the journey to their tourist destinations. More than 250 exhibitors from 14 countries in the Master Hall have organized excellent presentations of their tourist offers and this will also be a venue for business meetings, lectures, competitions, presentations, raffles, the Champions' Evening, and meeting potential employers.
He announced that the Novi Sad Fair was celebrating its 100th anniversary next year and that some segments will be given a makeover, special areas and new content.
The long-term aim of the Fair is to become the central place of inbound tourism in the region, said Cvetković.