Promotion of sports in schools at the Fair of Sports this year moved boundaries considering the fact that there were around 700 kids, future athletes, every day at the open courts and in halls of Novi Sad's Fair. The Fair was also visited by 600 pupils of elementary schools from Novi Sad.
Exactly 106 sports clubs, associations and organizations presented themselves, and 282 trophies were exhibited, while a number of medals visitors could see was much higher. The strongest attention was attracted by the most precious cups and medals of our Paralympics table tennis athletes: Zlatko Kesler, Borislava Peric-Rankovic, Nada Matic and Mitar Palikuca, won on Paralympics in Barcelona, Atlanta, Sidney, Athens, Beijing, London and Rio de Janeiro.
At the court for streetball, there were 35 official games played in 3x3 basketball, in which attendants of basketball clubs, schools of basketball and kids that are involved in Basketball Association of Novi Sad participated. There was always a queue at the table tennis tables, and according to the coach Srdjan Tomicic's estimation, more than 1.000 matches were played.
Coaches of Shooting Sport Association "Novi Sad 1790" and Shooting Sport Federation of Novi Sad confirmed that during the Fair of Sports more than 1,000 visitors tried themselves out on the fire line, where electronic targets were placed for shooting from laser rifles that are used for biathlon or training sessions. Mini tournament in indoor soccer, which was organized by a club "Fruskogorac" and a school of soccer "Profesor Bolesnikov" was marked by participation of eight teams and 20 matched were played.
A traditional tournament of Horseback-Riding Centre "Novosadski sajam" this year composed of nine races in hurdling (horse hurdle race), where more than 50 participants from all over Serbia, as well as from Macedonia, took part. There was also harness racing held.Novi Sad's Chess Club presented its activities in an interesting way. They organized quick draw chess games with visitors in which Aleksandar Kovacevic, Milan Gagic and Svetlana Stojadinov participated. During the Fair over 400 chess games were played.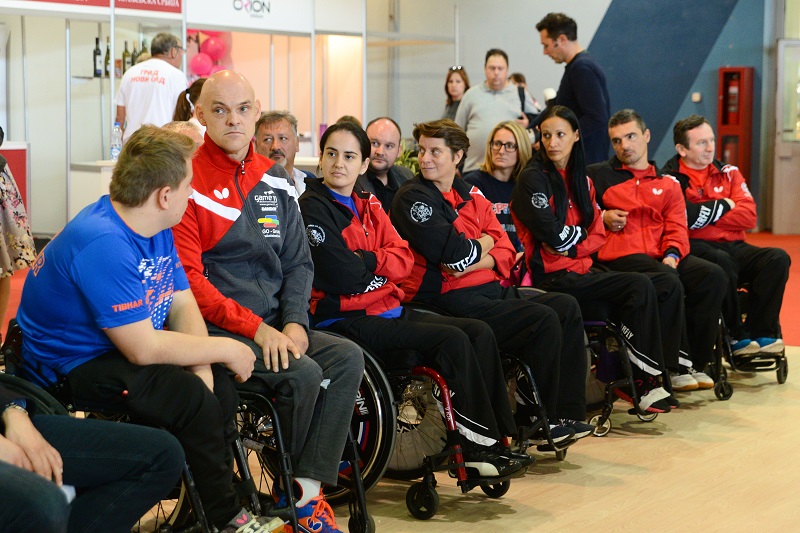 BUSINESS DEALS MADE IN SPORTS AS WELL
Novi Sad's Super League member, Football Club "Proleter" signed Agreement on Cooperation with Provincial Secretariat of Sports and Sports Medicine, so its football players will go to medical examinations to this institution. The Agreement is gained exactly at the Fair of Sports, at the lectures on sports injuries that had been organized by Football Association of City of Novi Sad.
The football players of "Vojvodina" will have summer seasonal preparations on mountain Zlatibor in the next five years, and will be staying at the hotel "Palisad". This was arranged within the Fair of Sports at Novi Sad's Fair, and Agreement on Business-Technical Cooperation was signed by hotel's Marketing & Sales Manager, Katarina Cicvaric, and Managing Director of Football Club "Vojvodina", Sasa Drakulic.